The 2018 Golden Globes red carpet was a far different affair than what we have come to expect; this was in direct reaction to the Reckoning that has been taking place in Hollywood since October. The black dress code was spearheaded by the #MeToo and #TimesUp movements as a symbol of support for those, not just in the Hollywood industry that have experienced sexual harassment and abuse.
The merits of using fashion as a visual to show solidarity and as a way to use their position of privilege in this manner, has been much debated over the last week. It was incredibly striking seeing star after star wearing a take on a black ensemble.
And I will turn it over to Samantha Powell as she explained so eloquently on Twitter why the black outfit choice is a strong visual.
What became clear early into the E! coverage is how they seemed to think that by not asking "who are you wearing?" they were helping solve the bigger issue at hand. Instead this makes it seem like the designer is complicit and that we can't be feminist AND care about fashion. Designers deserve to be credited for the hard work they have done. This is why I will make sure I do that here (where I have the information available). Updating to link to the excellent piece by Alyssa Vingan Klein for Fashionista on this matter.
There has been a lot of smart writing about this red carpet prior to the event including the Fug Girls talking to Vox—which I mentioned on here yesterday—and this piece by Leah Chernikoff about why Elle is still covering the red carpet. The Cut explains why they won't be ranking the red carpet and this is also a valid take.
I am covering the red carpet because I believe that fashion has the power to tell a story, to mark a moment in time. At first I was a little dubious about how the whole black dress thing would work, but on the whole I think it was a success. Less striking was E! asking women about #MeToo and #TimesUp, while throwing soft ball questions about the projects the male attendees had been working on. Even though they were wearing #TimesUp pins.
Another high point was seeing activists accompanying A-list stars as their dates to the Golden Globes. In my post about Michelle Williams' super candid interview in Harper's Bazaar, I mentioned how she was trying to figure out how to use her privileged position for good and it wasn't long before we found out how. Williams was the one who started the ball rolling on this, contacting #MeToo founder Tarana Burke about being her date for the show. Burke tells Elle, that in response to this she suggested getting more women involved instead of it being about one person.
So for my first post (there will be two more after this) I am focusing on the activists on the red carpet. They are the reason we are talking about this. They are the reason change can come about.
One aspect that stood out when Williams was being interviewed with Tarana Burke is that every time Williams was asked a question she made sure that it went back to either Burke or the big topic of the evening.
Michelle is wearing Louis Vuitton (of course) with a simple, but elegant floral detail. I don't have the dress credit for Tarana Burke's fabulous sequin number; if/when I do I'll make sure to update this post (which applies to all dresses I don't have the credits for).
By the end of the night both Burke and Williams are barefoot, which is so relatable. Thanks Busy for this shot!
With Meryl Streep is Ai-Jen Poo, the director of the National Domestic Workers Alliance, an organization that is the "nation's leading voice for dignity and fairness for millions of domestic workers in the United States, most of whom are women."
Streep's Vera Wang gown shows how striking an unfussy black frock can be while Ai-Jen Poo adds sparkle. Something that was a big trend of the night.
Billie Jean King has been a big presence during the Battle of the Sexes press tour and I'm pleased to see her with Emma Stone at this event. It is a shame this movie fell out of the broader conversation because I thought it was pretty great. The final act was incredibly emotional for me.
And four very different approaches to black showing just how versatile it is; Billie Jean King takes the suit option, Emma Stone wears lace Louis Vuitton, sparkly Christian Siriano for America Ferrera and velvet Christian Dior Couture for Natalie Portman. Oh and Portman also did this.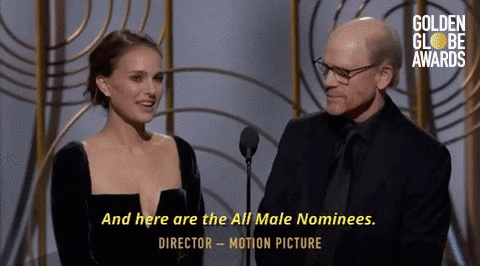 [Source]
Damn Natalie! Cue everyone (myself included) adding gifs from the Natalie Portman rap to their Twitter.
Saru Jayaraman is the co-founder and co-director of the Restaurant Opportunities Centers United; ROC's mission statement is "To improve wages and working conditions for the 14 million people who work in America's restaurant industry."
Jayaraman accompanied Amy Poehler, Poehler had one of the funniest moments in Seth Meyer's opening monologue.
I can't resist a caped sleeve. Plus Jayaraman nailed her statement earring choice.

Emma Watson has been working with Imkaan director Marai Larasi on a project for the past year. Imkaan is a UK-based organization that is "dedicated to addressing violence against Black minoritised women and girls i.e. women which are defined in policy terms as Black and 'Minority Ethnic' (BME)."
I love Larasi's buckle flats. Watson goes for ruffles in custom Ronald van der Kemp.
"To unify the struggle to promote farm worker women's leadership in a national movement to create a broader visibility and advocate for changes that ensure their human rights" is the Alianza Nacional de Campesinas mission. Board President, Monica Ramirez was the guest of Laura Dern at the Golden Globes.
Dern also goes for black with a sparkle twist in Armani Prive, Ramirez's adds a bold touch with her lip and pedicure color.
Ashley Judd was one of the first people to break the Harvey silence that had been destroying careers and hurting women for decades. Seeing her on this red carpet where Harvey was once king is a welcome sight. Salma Hayek wrote a blistering op-ed for The New York Times about her own painful experience with Harvey.
A bold red lip and Elie Saab for Ashley Judd, Salma Hayek wears elegant long sleeved Balenciaga.
To one of the moments of the night and the way to energize a room is to hear Oprah speak. Winfrey was this year's recipient of the Cecil B. DeMille award and you can watch (and then rewatch) Oprah's speech below.
Crushing it in every way conceivable in custom Atelier Versace.