The Oscar red carpet rundown continues (Part 1 is here) and here are some stunning takes on classic black and white designs (with some blue thrown into the mix).
Last year Lupita Nyong'o dominated award season and became the red carpet queen. Even when she isn't nominated she still makes a jaw dropping entrance in a Calvin Klein Collection pearl dress.
Meryl Streep not only had one of the reactions of the night (see end of post) but this is quite possibly my favorite ever Meryl Oscar look (and there have been many) in custom Lanvin. The tuxedo jacket kicks it off and the rest is just as chic.
This is somehow both demure and super sexy. Plus Margot Robbie's Saint Laurent manages to incorporate a sheer element that doesn't make me sigh with sadness. Amazing crimson lip color bonus points.
The #AskHerMore campaign is something I am all for (yes I am aware this might sound contradictory while I write this roundup) and the Fug Girls (Heather Cocks and Jessica Morgan) eloquently sum up how I feel about Reese Witherspoon not answering the 'who are you wearing?' standard Q "#askhermore is great, but it's ALSO okay to ask/say who you're wearing. You got it for free. It's a transaction. Tip your server." Reese, your Tom Ford dress is stunning as was your performance in Wild.
A beautiful Oscar de la Renta gown for Sienna Miller with bow and sequin detail.
As with Lupita, Cate Blanchett is a winner from last year doing the presenter version of a stunning gown. The Maison Margiela Couture dress by itself would veer towards classic but dull and it is the Tiffany & Co necklace that really lets this outfit sing.
Eddie Redmayne is adorable as seen here and when he won Best Actor. He also continues to wow with his suit choices and for the Oscars Redmayne wears Alexander McQueen, as does Hannah Bagshawe making this 'His and Hers High Fashion.' Plus there is only a slight hint of the Redmayne lean.
Leaving you with this while I catch up on sleep: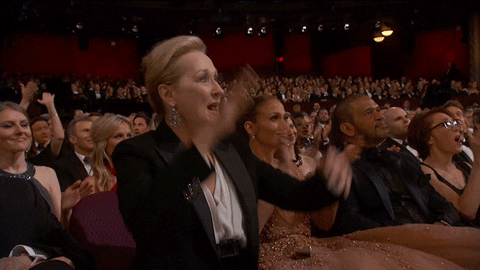 [Source]