This week has seen the spotlight get turned on the amazing stylists who get actors red carpet ready with the annual Hollywood Reporter Top 25. We covered the issue here, but we've got party highlights and some treats from the number 1 name on that list throughout this post.
Plus SXSW delivers on the exact kind of outfits I am looking to now that spring is finally here (sorry for those who had snow this week). There's also SNL musical performances and great late night outfits to enjoy.
At the Hollywood Reporter Power Stylist dinner Sarah Paulson shows just why Karla Welch is a sartorial force to be reckoned with as she makes this peach Prada embellished frock look so much more low maintenance than it is. Love the Chinese style collar and strong brow.
Posing with the man of the hour – also wearing Prada – and showing that he's also got the post-awards fashion sorted is Mahershala Ali. Such a strong shirt pattern choice and he's making a statement that he's fabulous.  
Karla Welch is also good at dressing herself (which is a weird sentence to write) in this simple and summery long Rosie Assoulin gown. Also points for sensible flats for both Welch and Busy Philipps; who I am loving in all white. This night also provided A+ Busy Instagram stories with a guest appearance from Sarah Paulson who playfully mimicked Busy's penchant for saying 'guys.'
In the way Sundance is to knits and coats, SXSW delivers on prints and super cute summer frocks. Jenny Slate is a SXSW regular and always delivers on the exact kind of outfits I would also want to wear (aside from the shoes his time). Bonus pocket points too! 
A busy SXSW for Noël Wells with premieres for Mr. Roosevelt and Infinity Baby. The above is at the latter and the matching star blast separates paired with black boots gives this look an edge. I really like Wells in season 1 of Master of None and I'm looking forward to seeing both of these projects, but especially Mr. Roosevelt as Wells writes, directs and stars in it.
More Karla Welch picks showing just how versatile she is as a stylist as it isn't all just award season and at the American Gods panel Emily Browning looks incredible in super floral Miu Miu and chunky Prada heels.
My intrigue levels for American Gods are set to high and while I don't know the source material, the cast and creative team sell it to me alone. Plus this new trailer is giving me a whole lot of costume design thoughts already.
At the Win it All premiere Stephanie Beatriz gives great wide-leg pants in stunning cobalt blue paired with a funky strapless top. I just bought some wide-leg pants and while I have no idea what shoes I'm gonna wear them with seeing Beatriz in this trend with this styling is giving me some ideas.
Also going baggy is Lorde doing a full oversized suit thing at the Elvis Duran Z100 morning show and to keep with this week's stylist theme she is another Karla Welch client.
Lorde performed on SNL and "Green Light" has been on repeat since it got released. More high-waisted/wide-leg and the backless sparkly top is everything.
Keri Russell loves a bit of leather for late night and much like myself she loves a bit of Grease 2 (it is the better movie, don't @ me).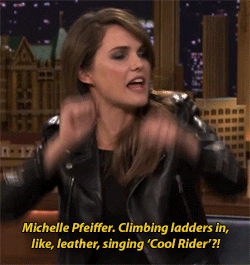 [Source]
For Seth Meyers she went all black with a splash of leopard print with her choice of Louboutins. And because I love all things celebrity real estate this sneak peek at her house (with bonus Matthew Rhys and baby in the background) is ticking those boxes. Makeup artist Tina Turnbow also gave a close up look of her work and I love a smoky eye.
There are two clips from the Seth Meyers interview; one is about the much talked about Matthew Rhys episode of Girls and this is the one that you can watch on a whole lot of entertainment/style websites. So we've opted for the second clip in which Keri Russell talks about the time she met Matthew Rhys ten years before The Americans and forgot about it until he reminded her.