Continuing the Golden Globes all the pretty dresses rundown and moving on from shimmer with a look at one of the big color trends of the night; red on the red carpet.
Red lipstick and gown excellence from Viola Davis wearing Donna Karan Atelier with a touch of embellishments to add some glitz to an already stunning frock.
For pure red no fuss Ralph Lauren is who you turn to (see Jennifer Lawrence at the 2011 Oscars) and Taylor Schilling is working this frock.
For a darker shade here is Christine Baranski killing it in Zac Posen. Always in awe of Baranski.
The length of Julianna Margulies' Ulyana Sergeenko Couture gown is super awkward and this is one that looks better before you scroll down, but there are still certain aspects that work for me.
Another best pairing of the night and if I had any choice the hosts of next year's Golden Globes. All the prayer hands emojis for Jane Fonda and Lily Tomlin.
This look is both very Allison Williams and not at the same time as the makeup is a little on the severe side for her and yet the Armani Privé gown is a striking combination of old Hollywood glamour and the princessy vibe she leans towards.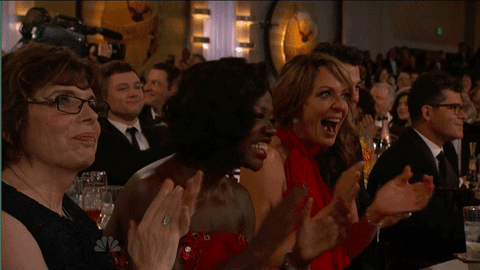 [Source]
Bonus Viola Davis and Allison Janney in red reacting to the arrival of Prince to the stage.