Almost six years ago I was paired up with a writer I knew from Twitter to talk Teen TV over at This Was TV. We started with Angela Chase and ended with Rory Gilmore. Now I am back with YA author Julie Hammerle to discuss the latest teen girl sensation; Lady Bird. This is the first time we have deep dived into a movie, but even with the much shorter run time there is a lot to unpack. And a lot to talk about in relation to those previous shows. Join us as we get into the relationships, our own experiences, why the early '00s were bad for fashion and who Lady Bird would hang out with from those other shows. 
Emma: One reason I really wanted to talk to you about Lady Bird in our format reserved for the best in 90s/00s teen TV is because this film feels so perfectly suited to the shows we have discussed in the past—My So-Called Life, Freaks and Geeks, Felicity and Gilmore Girls. Obviously we spend at lot less time with Lady Bird than Angela, Lindsay, Felicity and Rory, but even in that short time I think we find out so much about the complex life of this character and the world she inhabits. This is a testament both to Greta Gerwig's writing/directing and Saoirse Ronan's performance.
Now a quick bit of background in terms of my high anticipation levels for this film. This was the film I have been long been waiting to see, before it started getting all the awards love. I am a self-proclaimed Greta Gerwig stan. Frances Ha was my favorite film of 2013 and it impacted me on a deeply personal level. I love Mistress America and Twentieth Century Women. Knowing that this was Greta's first solo writing project and that she was directing only made me want to see it more. Plus Saoirse Ronan is good everything, so that was another bonus. Then it started winning things and my envy at everyone that had seen it grew.
I had that worry that I had maybe over hyped the film and I would end up disappointed. This was not the case and it managed to not only live up to, but surpass those expectations.
Coming-of-age films are completely in my wheelhouse, one that centers on a teen girl even more so. Lady Bird is set in 2002, which was the year after I graduated high school so there is a lot about her experiences that felt very personal right down to the very bad jeans we all wore then. We've talked a lot about the transition between high school and college on here, but most of the shows we talked about dealt with one or the other, Gilmore Girls being the only one that did both. And before we get into plot specifics I want to ask you about your experience watching this film, did you have high expectations?
Julie: I'm on the exact opposite end of the Greta Gerwig spectrum from you. I honestly haven't seen much of anything she's done/has been in. No Frances Ha, no Mistress America, no Twentieth Century Woman. I hadn't been actively avoiding them; I just missed them. Absent any first-hand knowledge of Gerwig's work, but also kind of knowing that she was a bit of an internet darling, I had CONCERNS that I wouldn't like this movie. My husband told me he thought it'd be my favorite movie of the year, but I worried it'd be too precious, too "indie" for me, too "Hollywood's idea of what it means to be a teen girl."
It was none of those things. I loved Lady Bird.
I know we'll get into this as we go along, but this film felt so authentic. (Other than Lady Bird's obsession with Dave Matthew's Band, which felt a little anachronistic to me–DMB would've been big with people who graduated high school when I did in 1997. By 2002, I feel like everyone had moved on to Ryan Adams or David Grey, Sad Bastard Music-wise. Maybe I'm wrong, though.)
Anyway, this movie exceeded my expectations, and totally fits into our series on high school/college women. How does Lady Bird fit with in Felicity, Rory, and the like? Who would she have been friends with?
Emma: Wow! We really are coming at this film from different angles, much like our other teen TV convos when only one of us had seen the show during its original run.
And with regards to DMB, I remember seeing Greta on one of the late night shows talking about this song and "Cry Me a River" being super important to her when she was in high school (she's a year younger than me), so I guess he was still a thing in 2002 for teens. DMB never really did much this side of the pond and most of my knowledge comes from Mouse Rat on Parks and Rec. This song (which I don't think I had heard before) felt like the ideal song to cry with your BFF to. And for how awful JT is, that album and particularly that track are so, so good. The first time I heard it was at a party. I did not hook up with a douche that lied about his virginity though.
Lady Bird is completely her own character of course, but there are elements that made me think of Angela, Felicity et al. There's the dyed hair, liking the band douche (he reads!), falling out with a bestie to hang with the cool crowd, wanting something more. And really these are part of the teen experience. I have done all of these. Again this is part of the reason why this movie resonated.
Someone on Twitter mentioned how they thought Lady Bird was in the same universe as Felicity (brb gonna write some fanfic) and if their paths crossed at NYU (or the University of New York in the Felicity-verse) I could definitely see them hanging out. Felicity is more straight laced than Lady Bird, but she does have her more adventurous side. If only Lady Bird had moved in during season 3 and not British Molly. I thought I had erased that arc. I had not.
What Gerwig captures in the writing and Saoirse Ronan in her performance is the wild swings between seemingly endless confidence and feeling like you're incredibly worthless. Something still experienced as an adult, but adolescence magnifies these things. At times Lady Bird looks like she could take on the world, but then her first love turns out to be a lie (Danny obviously cares about her, but not in that way) and she's also embarrassed about where she comes from. And she doesn't entirely fit in with one specific high school group trope. She's a theatre kid for a bit, she tries hanging with the band, but she falls between the nerdy and the cool characters. And I think this is how a lot of groups are at school rather than the neat classification. The relationship with Julie is the anchor to the movie and the focus on female friendships is a theme that runs throughout Gerwig's writing, this is far more important than either boy. What did you make of this portrayal?
[Source]
Julie: Are you talking about "Crash Into Me," as the DMB song? That was a big one around these parts, but I'm thinking sophomore year of college, which probably would've been Greta's freshman or so year of high school, so I guess it all checks out.
(Actually, fact check, "Crash Into Me" was on their 1996 album. I was definitely in high school. So, what do I know? Also, that song is a great "sob with your BFF" song, no doubt. I remember it being a big thing here because it's a pretty love song, but its lyrics are also kind of dirty in a way that made us all feel grown up to be singing them.)
I will not abide any positive JT talk.
I want to live in a new universe were Felicity met Lady Bird (CHRISTINE) in college instead of that British Molly! I think the big difference for me between Felicity and Lady Bird is that Felicity went to college thinking she had it all figured out. She was going to be pre-med and she was going to make love happen with Ben. Then…things fell apart. Lady Bird/Christine showed up in New York a hot mess. She'd been a hot mess for most of high school, while Felicity was the perfect kid. In a lot of ways, Christine is poised to handle college better than Felicity was. She's done more. Her parents have very low expectations for her, ha-ha.
Julie was the best. I actually want to see a movie all about her. We obviously share a name, but I just felt so hard for her. I was the overweight girl watching my friends kiss boys. I was the one with the unrequited loves and the out-of-reach crushes. (And I was the one who got good grades and knew I loved theater/music.) And, like you said, groups in high school are never just the "theater kids" or the "swimmers." There's a lot of overlap. Friends have varying interests. I liked how this movie portrayed that.
Also, I went to Catholic high school and spent my freshman year at an all-girls' school. I loved how right this movie got Catholic school. We were friends with the nuns and joked around with them. We wore uniforms (my freshman year), but people did manage to individualize their looks. You could tell who was cool by their Birks and wool socks. We were so classy in 1994. And we were always trying creatively to meet boys–on the bus, at basketball games, through friends. What did you make of Lady Bird's school life?
Emma: I am talking "Crash Into Me." And here is Greta talking 2002 and music on Seth. It includes the letters she wrote to Alanis Morissette, Dave Matthews and JT. Did I already mention how much I love her? Because I love her.
And you are so right, Lady Bird (and yes Christine by this point) and Felicity arrive at very different points in their life and with very different parental expectations. I have a lot more parental thoughts, but first I want to discuss Julie because I would also watch a movie called Julie. Their friendship feels very lived in and it is a testament to the film how much it hurts when Lady Bird ditches her. It is the kind of teen moment that makes you feel like shit when you think back to when you did this to someone and when it happened to you. It is something we discussed at length with regards to Angela Chase and Lindsay Weir. It is a rite of passage that doesn't get discussed as much as the other big teen moments (probably because the nostalgic feelings are anything but warm and fuzzy).
Just as important as love interest chemistry is best friend chemistry, Saoirse Ronan and Beanie Feldstein (sister of Jonah Hill) are amazing together. When Lady Bird goes to Julie after hearing "Crash Into Me" it was better than most climatic kiss moments. They dance around the kitchen eating cheese on crackers (sounds like heaven) and get baked together. I like that she keeps her crush to herself because sometimes you don't even share this stuff with your bestie. And I love that she thrives in theater, whereas Lady Bird is stuck with the chorus and made up roles ("It is the titular role" made me laugh so hard). I was always in the chorus because I got such bad stage fright, but I really like the whole doing the school play thing.
I did not go to Catholic school, but I did wear uniform for the entire time right though sixth form (senior year). A tie and everything. I never wore my tie properly, for a brief period I wore it as a stumpy length, we'd pull the threads out, put pin badges on it and I wore the thin side for my last two years. And when I could I would wear sneakers and not my proper leather shoes. Such a rebel, ha. My husband did go to Catholic school and he found all of that to be both very funny and also accurate.
The parts that really rang true include falling for the guy in the band. The guy that likes to read and has 'progressive' ideas about cigarettes and phones. I have definitely heard both of those conversations a lot. I smoked roll ups so I'm pretty sure I spouted some of those points about fiberglass. It is good to be able to identify the pretentious things we thought made us so superior and acknowledge how eye roll inducing they are now. What did you make of the boys Lady Bird fell for? Have you seen Call My By Your Name? Timothée Chalamet manages to play two very different sides of the precocious coin.
[Source]
Julie: I recently went through a whole bunch of stuff from high school and found some notes from friends, basically calling me out for being a dick. I don't think their words hit me as hard then as they did when I reread them as an adult. Though, I was going through my own stuff at the time, and my friends hadn't been very understanding of that either. When you get to adulthood, you (for the most part) know who you are, things don't change very quickly. But in high school, relationships, self-discovery, all of it moves so fast. We all think we're in the center of things, even though we're not. And as much screen time is given to romantic relationships on TV and in film, friendships are truly what high school is all about. Toxic ones lead you to make poor choices. True blue ones (like Lady Bird and Julie) can bring out the best in you.
I loved how this movie explored Lady Bird with Julie and Lady Bird with the other girl (what's her name?). It was kind of like Lady Bird having a Sliding Doors moment. Her life was one way with Julie, and something totally different with the other girl. In high school, people buddy up pretty quickly. By the end of freshman year, your place in the hierarchy is pretty much set. But Lady Bird tested that in this movie. She got to see what life was like on the other side, and…it wasn't that great.
Timothée Chalamet is a delight. He's the best worst kind of guy in this film, and he totally said she'd be his first time, too, right? John and I argued over that point. I definitely heard what Lady Bird did. I did see Call Me By Your Name, and he has such an interesting way of using his body–so gangly and awkward but smooth. This guy is going places, but we all knew that already.
He was totally the guy I would've been too scared to crush on in high school. He was way too edgy for me! I would've been chasing the gay dude or crushing on the teacher, like Julie.
Would you have fallen for the band dude?
Emma: One other thing I want to mention about the school scenes before moving on to boys in the band is the moment that gets Lady Bird suspended. We also had someone that was pro life speak to our class, but there was also a doctor present and suffice to say that no one was afraid of letting their opinions be heard. Not that any minds were changed, but imagine 20 precocious liberal 17/18 year olds presented with someone telling us abortion is a sin and yep we were all Lady Bird in this moment.
So boys in the band. I both dated and crushed hard on this kinda guy both at high school and university. My first proper boyfriend (relationship lasted 3 months) was the drummer in a local band; a lot of my long (and short) crushes were on lead guitarist, bassists and singers. Someone of these guys I am still very good friends with. So I definitely get the Kyle thing. And they all had great hair and liked to read. I am that teen cliché.
And Kyle definitely said "me too" when Lady Bird mentioned she was a virgin. Although considering how quick he was in the bedroom, I do wonder if he was lying about how experienced he was. Also the nosebleed link between Lady Bird and CMBYN. You're right about how Chalamet moves. One thing that stood out to me clothing wise in CMBYN is now his Levi's shorts hang off his waist. That he keeps hoiking them up.
I saw a tweet comparing Kyle to Jess from Gilmore Girls, which I get because the reading and the smoldering, but Kyle is way cooler. But at least Lady Bird sees through his shit immediately. Score 1 for Christine over Rory.
What did you make about the Danny relationship? Were you as devastated as I was when he broke down sobbing into her arms?
Julie: That abortion speaker took me right back to high school. I remember being a freshman and being persuaded to the pro-life side of things for a brief period during that time. So young and impressionable! I would've been the one tsking Lady Bird. I was trying to remember if I remembered anyone getting suspended in high school, and I *think* one of my good friends was, but I don't remember what she did. Cutting class? I never got so much as a JUG (Justice Under God), AKA detention. I nearly got one senior year for my skirt being too short, but I ducked into a bathroom before the teacher could catch me.
Kyle would definitely not have been my crush in high school. He would have been way too cool for me, and I would've known it. Also he's much too skinny for my taste. I see the Jess comparison, but I have "concerns" about Kyle growing up to be the good guy Jess grew up to be. I see many years of douche in his future.
Danny would've been way more my speed, for sure. MY first "official" boyfriend was a theatre nerd. He wasn't gay, though, and I was the one who ended up being a dick to him, but that's a story for another day. I loved the moment where Danny opened up to her. It was my second favorite "understanding straight(ish) person shows great compassion" moment after Michael Stuhlbarg's amazing speech at the end of CMBYN.
(Wow these movies have a lot of parallels. I guess they're both coming of age movies, so that makes sense!)
Emma: Most of the band guys were also theatre guys so they were part Kyle, part Danny. The douche levels were not high, well with the exception of a few. I crushed hard on one of the guys in the year (grade) above, but ended up going out with his friend because I am terrible. I also treated him badly. I ignored him to the point of him breaking up with me. Ghosting before ghosting. And part of the reason I signed up to do the school play was this crush. But also because I really enjoyed doing them. The crush was just a bonus.
The going into the men's bathroom when the queue for the women's is so long is definitely something we would do a lot at uni. Luckily I never caught my boyfriend cheating. This moment is so painful for both Lady Bird and Danny, because he definitely cares about her. Just not like that. The red flags went up when he said he didn't want to touch her boobs because he respected her too much. And I also loved the scene where he opens up to her. Her anger is understandable, but this deceit was not out of malice.
Danny isn't the only one that breaks down, there's also the priest that cries on cue without having to even try. It's one of those "holy shit my teacher is a real person" moment that is awkward for everyone. This examination of mental health was really subtle I thought. Also heartbreaking. What did you make of this storyline? The coach that replaced him was one of the more overt gags in the film (and reminded me of Mean Girls – why yes I do always mention this film, haha) but I think it worked well against some of the more nuanced jokes.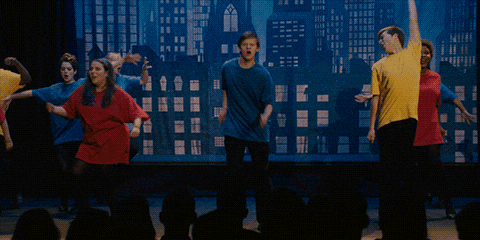 [Source]
Julie: That's one thing this movie captured really well–how mean we are (intentionally or not) to each other in high school. Those four years bring us some of our most intense first relationships (friendships and romances), and most of us were not equipped with the tools for positive conflict resolution.
The Danny stuff was so painfully real. I had a HUGE crush on one my friends during senior year. (Actually I probably liked him before that, too.) But senior year we were in a bunch of classes together, we hung out all the time. People assumed we were dating. I wrote him a pathetic love letter that he never mentioned to me. Then he started dating a girl (his Lady Bird, I guess). They were a thing for several years before he came out. I suppose I dodged a bullet…?
Same with Danny, I don't think there was ever any malice intended there. He, and I and everyone, was just trying to figure out who he was. People got hurt in the process, but that's high school.
The priest was absolutely heartbreaking, and I loved that his story gave us a small glimpse into Lady Bird's mom's life, and showed us how little LB probably thought about what her mom was up to day-to-day. As a parent, the mother stuff really got to me–the fact that her mom was basically the person LB blamed for all her problems, and that her mom was really a badass professionally, and surely LB had no idea.
The coach thing was good for a laugh, if kind of an overdone trope. I think Saved By The Bell did something like this, too.
Emma: I'm glad we're on to Lady Bird's mom, Marion because what a performance by Laurie Metcalf. It's a shame Allison Janney (who I adore) is dominating the Supporting category because Metcalf crushes it (and me) during this movie. There's a lot of great moments between the pair, but the dress shopping moments really underscore everything that can be complicated by a mother/daughter relationship. There's an antagonism with so much love sprinkled in. They fight then switch attention back to the dress shopping mission. But the part that really hits home is the "Do you Iike me?" This love is unconditional and yet Lady Bird needs her mom to reassure her.
The whole home dynamic is an interesting one and I grew up with super rich friends in a house I didn't always want to invite people back to. Now I know that was dumb and no one gave a shit, but at the time I was embarrassed. When Danny mentions the wrong side of the tracks comment it made me want to curl up under my chair. I was that asshole. We spend so much time comparing ourselves (especially as teens) that it is so easy to not even think about how hard our parents work when there aren't the fancy things to show for it. And luckily when there were job layoffs at my mum's work she got a new job pretty quick. Our parents also do a good job of hiding these things from us.
I got strong Patty/Angela vibes from Marion/Christine; it's far more combative than a Lorelai/Rory. And just like how I came around to Patty on the MSCL rewatch, it is very easy to sympathize with Marion. Especially when they keep the college applications a secret. And I get why Lady Bird didn't want to tell her mom, but the fact that her dad was in on it. And while I'm on the subject of her dad, Tracy Letts is so wonderful in this part. From the way he gives his son advice about the job interview (that he just tanked) to every scene with his daughter. The compassion, the subtle heartbreak. But don't lie to your wife dude. Again I love that Danny is the one that drops Lady Bird in it.
And what about the half letters her dad saved for her? I'm feeling teary just thinking about it. What did you make of these complicated relationships?
Julie: I just thought of this, but my own daughter has been asking me lately if I like her. I'm not sure what that's about, but I definitely do! That said, I wonder how much my mom liked me during my teen years. It really comes down to potential for Lady Bird and her mom, and, I'd think, most parents. Is this kid living up to her potential? Isn't that what we all want for our children?
I also tapped right into the money thing. I went to a private high school in a pretty wealthy suburb, but most of my friends were city kids, like me. My family wasn't poor by any means, but we couldn't roll with the big dogs, so to speak. It never bothered me, though, but some of my friends had a hard time–driving crappy cars while everyone else was in brand new white Eddie Bauer Trailblazers. I just thought we were kind of fun and funny in our ancient cars.
OMG the tears at those letters! I have to say, though, I'd kind of love to see a movie/show someday where the dad isn't held up as a hero by the teen girl while the mom is a harpy. Though I loved Tracy Letts's performance, and his character was really sweet. Oh, and that scene where the son gets the job over his dad! Plus Lady Bird did need someone in her family who was fully on her side, so I'm glad her dad was there for her, even if he could've made better choices.
Also, I'm a big sucker for family dynamics beyond the nuclear, so I LOVED everything happening with Lady Bird's brother's girlfriend. I also appreciated that the film felt no need to describe the various relationships or how this family came to be. They were all fully part of the family, with all kinds of baggage.
What else? I'm really excited to rewatch this on Saturday before the Oscars!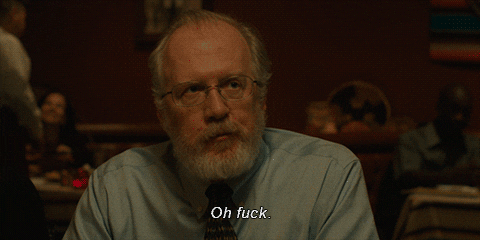 [Source]
Emma: Yeah I agree with you on the family dynamic stuff and now I'm trying to think of examples where the mother goes easy on the daughter while the dad is the tough one. I am coming up short. That one mention of Marion's abusive alcoholic mother tells you everything you need to know. Greta Gerwig is very good at revealing so much about a character in such a short amount of words. I'm all about powerful speeches (see Call Me By Your
Name) but there is something to be said about this kind of economy of words.
The family set up and the lack of explicit explanation (beyond one of the letters mentioning about their issues conceiving a child) was wonderful. And it shows how unnecessary that stuff is. I love that Shelly defends Marion to Lady Bird. Pointing out that her mother has a big heart even though to Lady Bird it seems that all she does is criticize. It reveals just how caught up Lady Bird is with her own BS.
One more thing we need to discuss is the costuming. And especially the bad jeans. So many bad jeans. Why were they so baggy and shapeless? Why did we think this was a good look? During Danny's teary breakdown I couldn't help but notice the bad jeans. The dress Lady Bird wears to prom is perfect and I definitely had a hair band like the one she has. I miss that hair band. The super tight dress she tries on before settling on the dress is the most early '00s awful. I loved it.
Also the level of messy in her room gave me flashbacks to the state of my bedroom. And also the pile of clothes I need to sort through in my current adult bedroom. Even after I tidy the clothing explosion will be back within two to three days.
So Lady Bird is up for 5 Oscars, I think it could win one (Original Screenplay), but if you could pick it to win one award out of the five which would it be and why?
Julie: I definitely had a similar pair of jeans to the wide-legged ones Lady Bird wears a few times. I thought I looked great in them. Thanks to this movie, I now know differently. That was not a great time for fashion. But, looking back, it never is, right? Not until some designer reimagines it and we're all like, "YES! Shoulder pads and power suits were a GREAT idea! We were all so smart in 1987!"
I was the biggest slob in high school. One of my friends used to come over and clean my room for me because I disgusted her so. I also had bunch of song lyrics I'd printed out and taped to my door–mostly Indigo Girls and Ani DiFranco.
The husband and I have been debating the Oscars thing. So much is up in the air this year, but I'm feeling them not giving it to Frances McDormand and giving it to Ronan instead. Since there's been so much time between the last awards show and the Academy Awards, anything could happen–I also wouldn't be surprised if Janney peaked too early. So I'm saying Lady Bird gets two–both actress awards.
[Source]
Emma: I would love to see your Oscar predictions come true! I don't think this year will be quite as dramatic as the last. But I am very much looking forward to it.
Julie Hammerle is the author of The Sound of Us, which will be published by Entangled Teen on June 7, 2016. Before settling down to write "for real," she studied opera, taught Latin, and held her real estate license for one hot minute. Currently, she writes about TV on her blog Hammervision, ropes people into conversations about Game of Thrones, and makes excuses to avoid the gym. Her favorite YA-centric TV shows include 90210 (original spice), Felicity, and Freaks and Geeks. Her iPod reads like a 1997 Lilith Fair set list. She lives in Chicago with her husband, two kids, and a dog. They named the dog Indiana. Newsletter