It has been a long time since Philip and Elizabeth had a new honey trap mission on The Americans and in "What's the Matter with Kansas?" they both get to give their seduction skills a workout with varying results.
There is reluctance from both husband and wife when Gabriel gives them their objectives at the start of the episode and each comes up reasons as to why this is very bad timing; the travel to Kansas, how intense things are with Paige, their other ongoing operations. And while Gabriel has been accommodating in the past to their calls for space and time, this is not one of those occasions and it is full steam ahead.

Philip is particularly reluctant and his heart really doesn't seem in the flirting game. He gives it a good go though and the gym has proven to be a great dating ground for others recently (see Stan and he's already at the double date stage). Deirdre does give Gus Alexander his number, but is pretty non-committal when Philip rings to make a dinner date. There's the work excuse as she seems pretty invested in her job, but there's also the Philip factor of not being quite as effective as he tends to be in this arena.
Maybe he's out of practice and his most recent new mark before Deirdre was Kimmy and he was even less enthusiastic about that one. Martha was long term and that started just prior to the new phase of the Jennings marriage where pretending turned into reality and the same goes for Annalise. Maybe Philip just doesn't have it in him anymore
The marriage at the heart of the story is stronger than ever; they are on the same page when it comes to Paige (I'll get my coat) and this is evident in how in sync they are with their similar reactions to Paige's snooping at Pastor Tim's. When talking about this new operation there is reinforcement from both about how reluctant they are. Philip jokes about how he might die of boredom with Deirdre (although this could also be good deflection if he strikes out) and Elizabeth brings Philip a gift from the plane. A drink that another guy bought her, but she made sure he knew who she would be giving it to.
Philip waits up for Elizabeth to get back from Topeka and one thing the Americans does very well is use spaces throughout the home for these intimate moments. Even if the outside still looks like a looming house of horrors, inside it is nothing but warmth.
This is also where this show excels at the marriage aspects and despite the overall content of their conversation being very different from the average "How was your day?" back and forth this is very much a husband/wife chat. Along with the miniature bottle gift, Elizabeth tells Philip that her guy is "full of himself" and doesn't go into much detail beyond the hiking date she has set up.
Even without mentioning how hot he is (he is very hot, hello beard) Philip's jaw clenches in a way that would suggest just how unhappy he is with this whole scenario. This is also time for my weekly praising of how good Keri Russell and Matthew Rhys are at saying so much with just their faces.
Other than the hotel manager in season 3 it has been a long time since Elizabeth engaged in some extended extra-martial spy seduction shenanigans. The whole Don set up was faked and all of her other recent operations have been friendship based. Post-end of season 1 reconciliation the only other honey traps Elizabeth has been a part of were during season 2 and this is ground they haven't had to cover while their marriage has been this strong. It clearly makes Philip jealous and his comments about her liking this new guy after she mentioned that he's funny are met with a stern rebuttal and this previous scene from season 1 would work wonders here as a response.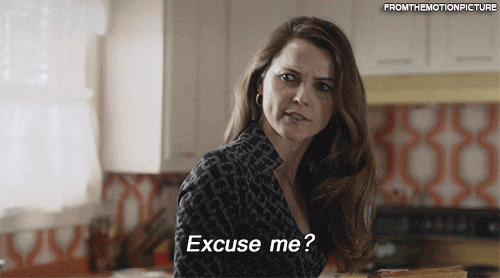 Instead of getting angry she instead points to the big picture of the why they are doing this and how she actually feels about Ben. Those jokes are something she has to laugh all while he is trying to starve their country.
Earlier in the episode Philip quips "Think we're going to get fired" and she points out to him that this isn't funny (he knows) so the mention of Ben's humorous qualities strikes a nerve that is already frayed. This is tension that hasn't been felt since the Martha stuff came to a head mid last season and with all they are doing right now it isn't surprising that emotions are high even if they are both experts in control.
Elizabeth's meet cute at the health food store is way more successful than Philip's lukewarm gym attempt and Elizabeth plays the awkward clumsy girl to perfection. Not only does Ben get to show off his knowledge of all things health food, but he also gets to play the hero sweeping in to help with the dispenser she purposefully can't quite figure out how to use. Elizabeth works the ego element well – all the while a store worker awkwardly sweeps up – and her look as Brenda might be my favorite yet. Yes even more so than Patty last season.
Brenda works in fashion selling women's clothes and her look is more edgy than Patty's. It's all about the various blacks and this is Elizabeth's first foray into acid wash denim territory; a hard look to pull off and of course Keri Russell does just that. The shorter black bob looks cute on her and the glasses are not quite the full '80s covering half your face horror show that Philip's guy is wearing (which I actually love).
After a fun hiking date, Elizabeth goes back to Ben's and before things go too far she makes her excuses to leave; she has him on the hook and wanting more. There's also a sense that she's doing this not only for the mission, but because of the complicated emotions at play. Or maybe Elizabeth is just better at separating the work from her marriage, even if her marriage is intrinsically entwined with her work. In the same way Elizabeth felt insecure about Martha, Philip is leaning into this state and she shuts him down pretty effectively at the end of "What the Matter with Kansas?"
Paige also gets let in on some of the aspects of this mission after she asks about their separate time away. Elizabeth is vague on details explaining that sometimes they have to work sources on their own. She asks about her cover name and profession and is rightly weirded out by the thought of her mom pretending to be someone else. If only she knew the whole story and then her mind would be really blown. In this sharing session Paige also reveals she found Pastor Tim's diary while she was babysitting. Elizabeth is more concerned than proud as she points out that Paige could easily slip up and act different if she was even almost caught in the act. This is the same point Philip makes and there is worrying amount of cavalier attitude with Paige as she points out to her mother that she wasn't there.
Not to completely shit on her achievement and Elizabeth does call her brave and smart for finding it; later she also raises the point that there might actually be something useful in the diary to use against Pastor Tim and Paige is very much her mother's daughter. Blackmail is very much a central theme in the other major thread this week with Stan finally figuring out what he can use as leverage against the CIA and that's public embarrassment. He threatens to go to the press about that time he gave Vlad a burger and then shot him in the back of the head, but is it too late? Aderholt gave him the idea after he mentioned a very successful operation in which blackmail was used and everyone came out a winner. This is not something that typically happens on The Americans and all's well doesn't tend to end well.
Oleg is deep in his investigation and this one also uses weak spots to exploit for the so-called good of the country. He's not really into this line of reasoning and he wants to find another way and this further reinforces the idea that he's not that different from Stan. Except he thinks Stan has betrayed him and he tells his mother about his big dilemma.
So far we have only seen her as a weeping mess, but this week we get to see an entirely different side to Oleg's mother. Unknown to him and before Oleg was born his mother was sent to a camp for five years. She explains that she survived by doing what she had to and now he should do the same.
In other son news Henry is now really tall and delivering on teen sass. He's pissed that his mom doesn't put enough jam on his toast and instead of simply putting on more he throws it in the trash; a very significant point considering how much food or the lack of is at play this season. Henry is also in trouble at school and Elizabeth thinks his old friend Doug is actually code for a girlfriend. Just who is he on the phone to for hours? Meanwhile the other son makes his dangerous trip across the border and arrives at JFK. I figured Mischa's travels would take a lot longer than that and the speed of his venture is welcome rather than dragging it out.
Philip goes for a beer with Alexei and is far more successful with him than his other mark. They talk about how everyone sees Alexei as a genius here as he's giving them a lot of information about Russian infrastructure. Alexei notes how similar the two countries are in terms of land and yet how backward they are with their methods. This plays into the discussion in the motel room last week and there's a push/pull at play between the very real things that are wrong with the corrupt system at home and loyalty to country.
Outfit I Would Wear in 2017
I don't think I can pull off acid wash, but I would definitely give this jacket and those glasses a go. A+ costume work from Katie Irish and her team. Looking forward to more Brenda.
Felicity Flashback
Halloween on Felicity was an early look at how good Keri Russell looks with a short bob.