You can tell we are in peak pre-Emmy nomination season because the interviews they keep on coming and the Hollywood Reporter Drama Actress roundtable is always my most anticipated. As I mentioned earlier today, there is just something different that you get from a conversation that is just between women, which is why I'm happy we get a variety of roundtables from different outlets. This year's outing is no exception.
There are a lot of big hitters here and veterans of this award season process with one newbie to the whole shebang (as there often is) and Chrissy Metz gets the This is Us place, which actually makes more sense than opting for Mandy Moore.
Not one, but two Big Little Lies ladies and while this initially surprised me you can see why they went with both Reese and Nicole. Oprah is no stranger to this process even if her IMDb credits (as she points out) are less than a lot of the others at this table. Mad Men is no more, but Elisabeth Moss is back and she is probably the front runner in her category for The Handmaid's Tale. Jessica Lange rounds out the group and as the mini-series/TV movie category is the most stacked it is clear why the THR focus is here.
Topics covered include process, the current political landscape and how Hollywood lacks in a variety of roles for women. It is something Nicole Kidman covers in her conversation with Ewan McGregor in their Variety Actors on Actors interview and it is a repeated talking point in these actress roundtables; the roles for women – particularly in – film are limited in scope.
The desire to do Big Little Lies and other such projects came from the small amount of decent parts on offer and Witherspoon forgets to give any more clues as to what terrible script she was offered.
"I started a production company five years ago because I was looking at maybe the worst script I've ever read in my entire life and it had two parts for women. I called my agents and said, "This is such a terrible script." They said, "Well, seven women want it so … you're the only one who's not vying for the part." And I thought, "God, if this is what we've come to, I have to get busy." Because you can either complain about a problem or you can be part of the solution."
Reese, you are bad at blind items but good at acquiring the rights to interesting books.
Nicole Kidman follows this up with the age old balancing debate; the 'can I have it all?' without saying 'can I have it all?'
"We created the show for that reason. The other thing is, being a woman and having children, there are so many things I would want to do, but so much of my life is, how do I balance that? If I had my fantasy life, there are so many roles and places and things I'd want to do. I'm now at a point where I have to go, "What is that going to cost me? And what is that going to cost the people I love? Do I want to leave now to do this?" Men have that, but they don't have it in the same way that we have it."
This could be tired old ground, but it also plays into the same conversations their characters were having on Big Little Lies.
I also love what Reese Witherspoon says about prep time in comparison to her male peers:
"I was talking to this very famous actor and I said, "How did you prepare for this role?" He said, "Well, I went into the woods for three weeks and I didn't talk to anybody." And this person has a lot of kids and is married. And he's like, "You did the same thing for Wild, right?" I was like, "Uh, no." If I went away for three weeks and no one could call me, everybody would've had a mental breakdown. I got on a plane and was shooting within 24 hours. I wish I had prep time. I love the preparation. I love watching and reading and digging deep."
Obviously she's not talking about Leo here, but considering how much praise he got for what he 'endured' while making The Revenant and the conversation surrounding Wild the previous award season was far less fawning. That's because Reese did not eat raw liver.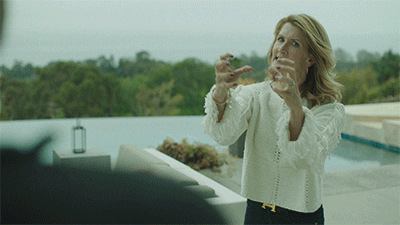 The rest of the conversation is also pretty interesting including why Nicole Kidman through a rock through a window after a tough day filming BLL, why it took Elisabeth Moss so long to say yes to Handmaid's Tale and when they've felt nervous performing. I'm looking forward to seeing the whole thing when it becomes available and this roundtable season begins airing on Sundance, June 25.
One other thing to mention briefly as once again the styling is all about the muted tones and I'm putting it out there now as a prediction that the comedy actresses will be in bold colors. Mix it up, guys. Sadly there is no Kirsten Dunst this year to make bridesmaid observations about the choice of attire.