Welcome to TV Ate My Wardrobe's Best of 2017! Today we are celebrating the best music. 
It is an annual tradition in these parts to celebrate the songs that made an impact on TV. Most of the music I listen to is a band I have discovered via television or a playlist from particular show. This year has been dominated by Big Little Lies, The Leftovers, Halt and Catch Fire and Master of None, but there are a number of other shows that crushed it on the music supervision front.
As with the 2016 playlist, I have compiled this one for Collider and it has stretched to 35-tracks from 27 different shows. Covering drama, comedy and reality television; from network, cable and streaming platforms. There are songs that will make you cry, ones to get you dancing, sing along to and tracks that will be stuck in your head for days/weeks (looking at you Crazy Ex-Girlfriend). 
Music can really shape a scene; enhancing emotions and later causing you to flashback to that moment as soon as you hear a few bars from the song. Any song that has been in The Leftovers will pretty much make me well up in a Pavlovian response. I have danced in my kitchen while making pasta to the "Guarda come dondolo" by Edoardo Vianello from Master of None. And just like Gretchen from "You're the Worst," I will bellow at the top of my lungs to "Zombie."
There are also those tracks that are memorable for other reasons, including this jaw dropping moment from Ru Paul's Drag Race with reactions caught on camera at Flaming Saddles in LA.
An even more iconic moment occurred in the Drag Race finale. Over at The AV Club, Allison Shoemaker goes deep with her analysis of Sasha Velour's incredible performance, instantly becoming one of my favorite pieces of writing from this year.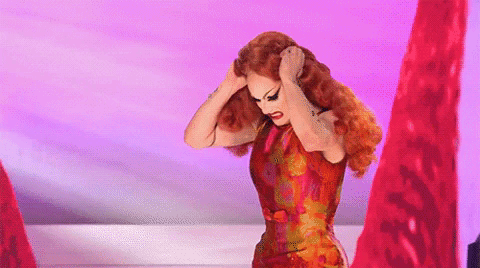 [Source]
There are a lot of individual tracks that I could highlight in the playlist and over at Collider I do go into more detail, but just know that each has been picked because it left its mark in one way or another.
To listen to the whole playlist head here.